FPM 2019 Training Program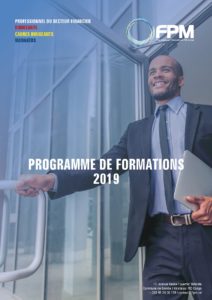 FPM ASBL, as part of its transversal technical assistance (ATT) component, is continuing to implement its 2019 training program from 16 September. This program is intended primarily for professionals in the financial sector, particularly the managers and managers of financial institutions.
The main goal of this program is to foster the emergence of competent and skilled human resources to professionally exercise the professions essential to the good functioning of institutions at the level of the MSME financing sector in the Democratic Republic of Congo.
For this phase, the proposed program focuses on new themes and an innovative approach to blended learning (classroom and online learning). It aims to disseminate best practices and specific support for the implementation of institutional training plans. Two cities of DR Congo are concerned namely: Kinshasa and Goma.
This program counts:
Three certificates each consisting of two modules:
(1) Financial Institutions Communication and Marketing,
(2) Digital Financial Products and Services, and
(3) Risk Management.
(1) The National Financial Education Program (PNEF);
(2) training of resource persons in gender;
(3) Management Information System and
(4) Cooperative Governance.
The 2019 training program will be led by training firms specializing in the various themes selected among which we mention: MICROSAVE, STACHANOV, CREDASSUR and METANESIS under the supervision of the FPM ASBL.
See the training brochure
For registration: see form
Contacts: [email protected] with copy [email protected]
For more information, contact the following numbers: +243 81 43 53 305 or +243 99 20 06 139.