Our projects
FPM ASBL serves a variety of financial institutions
FPM ASBL managed 131 projects between January 2011 and December 2017, of which 46 direct technical assistance projects for 23 PFIs and 85 transversal technical assistance projects, of which 46 training sessions, 26 forums and 13 market studies.
By the end of 2017 MFIs of national-initiative and cooperatives had received nearly 39% of total resources allocated to direct technical assistance, and commercial banks and international microfinance institutions 61%.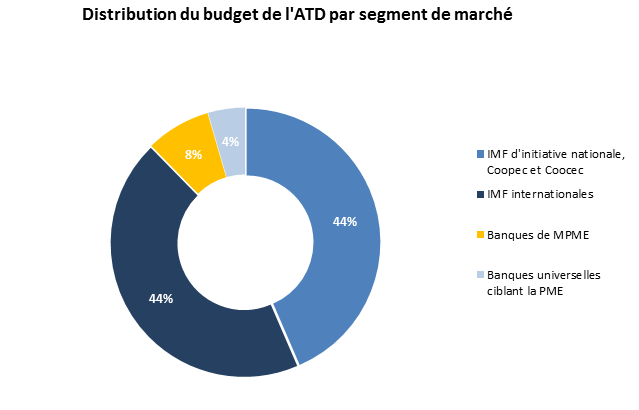 Some of our projects: a particular focus on MSME development and innovations
Over the past five years, FPM ASBL has developed and led many technical assistance projects.
Development and management of the MSME segment for the benefit of banks and MFIs
Design and development of an SME strategy within a commercial bank
Revitalization of the SME segment in an international MFI
Market studies for SME financing
Training on credit analysis for MSMEs
Training on the management of the SME credit portfolio
MSME Funding Access Forum
Control, internal audit and risk management
Strengthening the internal control system in banks that have introduced SME financing
Strengthening the internal control and audit system in microfinance institutions and cooperatives
Consolidation of banking risk management system
Implementation of an active – passive financial risk management system
Training in the areas of control, internal audit and risk management
Forum on liquidity risk prevention in a period of financial crisis
Financial management and accounting
Overhaul of the accounting and financial system of MFIs and cooperatives
Accounting preparation project for migration to new information management systems
Improving the transparency of financial information for financial institutions and cooperatives
Training in the new accounting system for microfinance institutions and cooperatives
Accounting training to prepare for migration to OHADA Law (Organisation for the Harmonisation of Business Law in Africa)
Information management system
Audit engagement of the information management systems of MFIs and cooperatives
Preparation and migration operation to new information management systems
Automation of management flows to improve the efficiency of banks and MFIs
Products Development and Innovation
Development of innovative savings products
Development of agricultural finance products
Development and implementation of private and international cards adapted to the SME market
Development and implementation of alternative channels for the distribution of financial services by POS (Points of sale)
Governance, Strategy and Organisation
Audit and strengthening of governance systems of MFIs and cooperatives
Strategic repositioning of MFIs and cooperatives
Optimization of organizational structures of banks, MFIs and cooperatives
Development of business plans for MFIs and cooperatives
Some examples
For an optimal integration of the SME segment into Congolese banking dynamics: FPM model. Case of the Bank Of Africa
Computerization of the Information Management System (MIS). Case of the cooperative CAHI
Implementation of an internal control system. Case of the MFI HEKIMA
Forums for funding access to MSME