FPM IS SPONSOR OF THE 5th EDITION OF THE "MAKUTANO" BUSINESS FORUM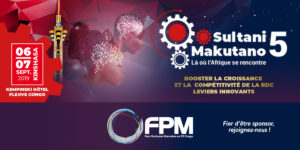 FPM "for financial inclusion in DR Congo", sponsor of the 5th edition of SULTANI MAKUTANO, invites you to take part in this great event organized by the first Congolese business network "Makutano", from the 6th to the 7th next September in Kinshasa at Kempinski hotel.
The theme of this 5th Forum will be to reflect on the innovative levers of growth for the DRC that can integrate a local production policy to be a force of proposal.
Several themes will be addressed among which we quote: the innovative assets of the DRC; the woman in business; digitizing; artificial intelligence; climate change; the energy transition; Outsourcing and insurance in the DRC, etc.
This forum will feature the participation of His Excellency Felix TSHISEKEDI, President of the Democratic Republic of Congo, 500 business leaders, opinion leaders, institutions, private and public actors from 20 African and international countries.
These numerous Congolese, African and international personalities will be present to participate actively in the debates and bring their eyes on the different subjects. For its part, FPM will be represented by Mr. Jean Claude THETIKA (General Manager of FPM ASBL) and Mr. Carlos KALAMBAYI (General Manager of FPM SA), who will speak about the theme: "Subcontracting: a law and what next? ".
As a reminder, the FPM is a fund whose vision is to reduce poverty and improve the living conditions of the people in DR Congo. It supports the construction and development of an inclusive and responsible financial system by providing technical assistance and refinancing tailored to financial institutions serving micro, small and medium enterprises (MSMEs) and the low-income working populations which have a real potential of development.
For more information : https://www.sultanimakutano.com/speakers.php