The FPM was among the 600 experts at the African Microfinance Week in Kigali!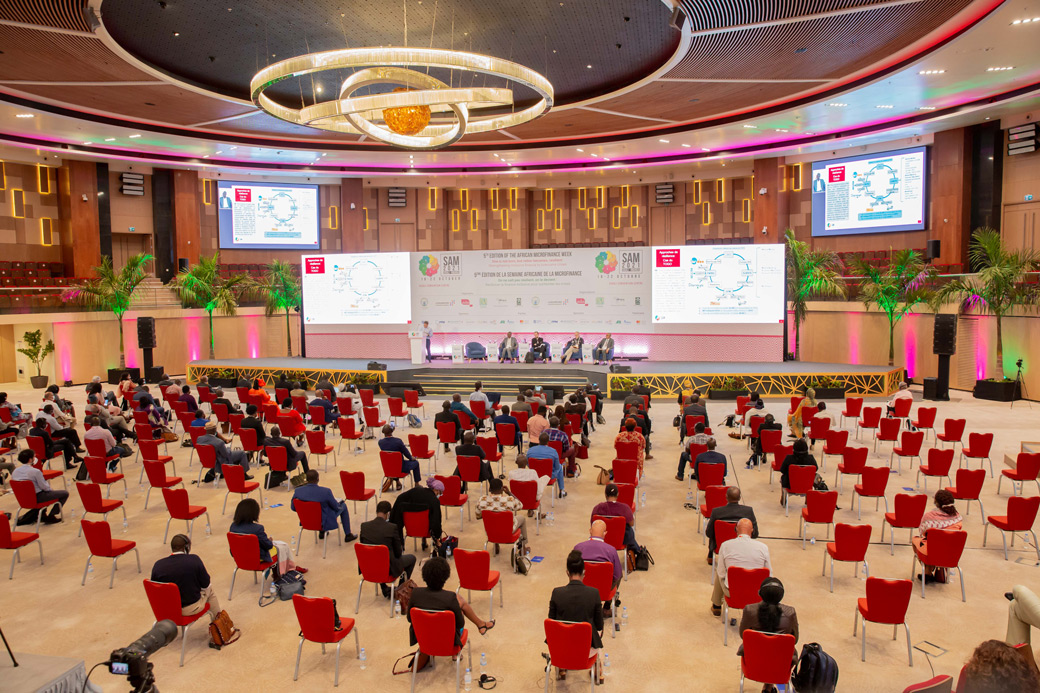 The African Microfinance Week (SAM) 2021 took place from Monday 18 October to Friday 22 October in Kigali, the capital of Rwanda.
The SAM is the largest conference on inclusive finance in Africa. It brings together international inclusive finance professionals every two years in one of the African countries for a conference, training, an investor fair and an innovators' village.
Organised by ADA (Appui au Développement Autonome) with the support of the Luxembourg and Rwandan governments, the SAM is the premier event for inclusive finance in Africa . In addition, participants benefited from over 20 training sessions by experts from microfinance institutions, banks, investment funds, regulators and public institutions.
The FPM took an active part in the SAM meeting as a sponsor. Then, through its officials, the MPF intervened in different parallel sessions during the event.
At the outset, it should be noted that the MPF is a fund that supports micro, small and medium-sized enterprises (MSMEs) by promoting the construction and development of an inclusive, sound and responsible financial system. The MPF offers technical assistance and refinancing services tailored to financial institutions in DR Congo that serve MSMEs and low-income working populations with real development potential.
The FPM was institutionalised in 2010 as a non-profit association (ASBL) under Congolese law with Mr Jean Claude THETIKA as its Managing Director. In 2014, the sister vehicle, the FPM SA, whose general manager is Mr Carlos Kalambay KABANGU, was created to also ensure the refinancing of financial institutions in DR Congo. The two entities are now complementary: FPM ASBL provides technical assistance to financial institutions offering financial products and services to MSMEs, and FPM SA is dedicated to refinancing financial institutions.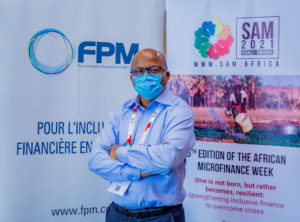 Speaking at one of the sessions, Mister. Jean Claude THETIKA, in his capacity as a general manager of the FPM ASBL, spoke about the adjustment of the cooperative model to local realities and the role of cooperatives in strengthening the resilience of members, given the challenges of governance and economic imperatives in DR Congo.
For his part, Mister. Carlos KALAMBAY KABANGU, general manager of FPM SA, spoke about access to refinancing, which is a factor in strengthening the resilience of the microfinance sector in the face of the Covid-19 crisis. He spoke about the experience of the MPF SA in supporting the resumption of activities of COOPECs and microfinance institutions in DR Congo.
SAM Objective and Key Role of Inclusive Finance!
For this year 2021, the objective of the event was to define strategies and actions to strengthen the resilience of financial service operators and beneficiary populations to shocks, such as the COVID-19 pandemic.
Experts addressing the theme noted that the inclusive finance sector can play a key role in helping people become more resilient by improving access to financial services. Particular emphasis was placed on African countries, which experts said can leverage their experience in technology-based financial innovation to increase people's resilience through savings and micro-insurance products. This should accelerate progress towards the UN Sustainable Development Goals.
As host country, Rwanda through its Minister of Finance and Economic Planning, Dr. Uzziel Ndagijimana, underlined it in these terms: "It is significant that MAS has chosen to host Africa's largest inclusive finance event in Rwanda. We believe that financial inclusion is one of the key drivers of an inclusive economy. The Rwandan government has invested heavily in removing systemic barriers to the use of financial services. This is demonstrated by the level of financial inclusion, which now stands at 93%. However, the negative economic impact of Covid-19 has showń that we need to maintain this success in financial inclusion."
For his part, Luxembourg's Minister for Cooperation and Humanitarian Action, Franz Fayot, explained that "Luxembourg actively supports the MAS, as it is an opportunitý for us to deepen our relations with African countries. The ultimate goal of our new inclusive and innovative finance strategy is to contribute to the eradication of povertý and the achievement of the UN Sustainable Development Goals. We have a thriving and diverse inclusive finance sector with key players in Luxembourg. We work with many countries to support economic development and are keen to share our regulatory and technical expertise to build resilience among vulnerable segments of the population."
In his speech, Patrick Losch, President of ADA (Appui au Développement Autonome), noted: "We are delighted to bring SAM, Africa's largest inclusive finance event, to Rwanda this year. ADA's mission is to support the inclusion of underbanked populations in the financial system to enable them to save for their future needs or start their own businesses.
In particular, we aim to increase the resilience of local microfinance providers in the face of shocks such as the current coronavirus crisis, so that they can continue to support African farmers and start-ups with the banking and insurance products they need to grow their businesses in a sustainable and self-sustaining manner. The MAS brings together leading microfinance organisations, investors and service providers from across Africa in one place, allowing us to be more effective, initiate new partnerships and create investment opportunities.
Finally, it should be noted that this edition of the MAS was rich in colour and gave more opportunities to be trained on the spot by participating in workshops that provided practical advice on various topics such as social and financial performance, transparency, digital finance and micro-insurance.