Signing of the FPM ASBL – PAIDEK SA partnership contract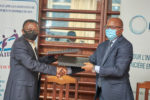 The FPM ASBL represented by its Director General, Mr. Jean Claude THETIKA signed on Wednesday 27/10/2021 in Bukavu a technical assistance contract with the MFI PAIDEK sa, represented by its Director General Mr. René RAMAZANI MUSONGO.
By signing this technical assistance partnership, the FPM ASBL (FPM's technical assistance vehicle) and the MFI PAIDEK sa intend to jointly contribute to a better offer in favour of the DRC's #SMEs and low-income people, which constitute a strategic sector for the country's development.
This partnership aims to strengthen the institutional foundations of the MFI PAIDEK sa in order to enable it to better exploit its growth potential.