Signature of the financing contract between the FPM SA and the MFI TRUST INVESTMENT DEVELOPMENT (TID)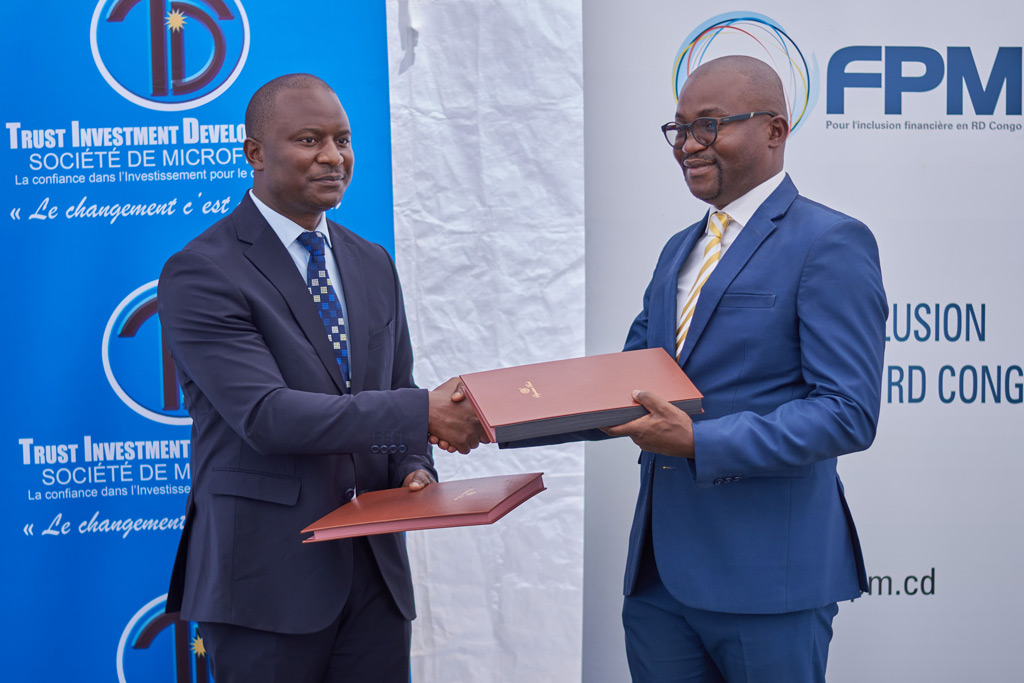 The FPM SA and the Microfinance Company TID SA have proceeded this Saturday, May 14, 2022 to the signing of a medium-term financing contract whose objective is to support the financing of micro, small and medium enterprises in the areas of intervention of TID, namely: Butembo, Beni and Bunia. On this occasion, the FPM SA was represented by its Deputy Managing Director, Mr. Patrick NKONGO MAMBU and the Microfinance Company TID SA, by its Managing Director, Mr. Alfred KAMATE SIVIRI.
The Multi-Donor Fund, MPF SA is an initiative of KfW (German Development Bank), BIO (Belgian Investment Company for Developing Countries), Cordaid and Incofin CVSO whose mission is to support the construction and development of an inclusive, sound and responsible financial system in the DRC by promoting access to refinancing for financial institutions that target MSMEs and low-income people. To date, FPM SA supports nearly 15 financial institutions in the microfinance and banking sectors in the Democratic Republic of Congo.
TID SA, created in 2013, is the result of the will of a group of local merchants and entrepreneurs who wanted to provide this part of the country with a viable financial institution after the bankruptcy and forced dissolution of certain microfinance institutions during that period. Since the launch of its activities, TID has been operating in areas facing multiple security challenges where it contributes to improving access to financial products and services for the population. In addition to financial products such as savings, credit and transfers, TID's product range includes training and coaching for its clients.
Thus, the senior debt financing concluded today aims to strengthen TID's medium-term financing capacity to support clients in its areas of intervention where commercial activity remains intense and agricultural potential allows the exploitation of certain crops that require medium- and long-term maturities.