A new donor has joined the FPM ASBL : French Development Agency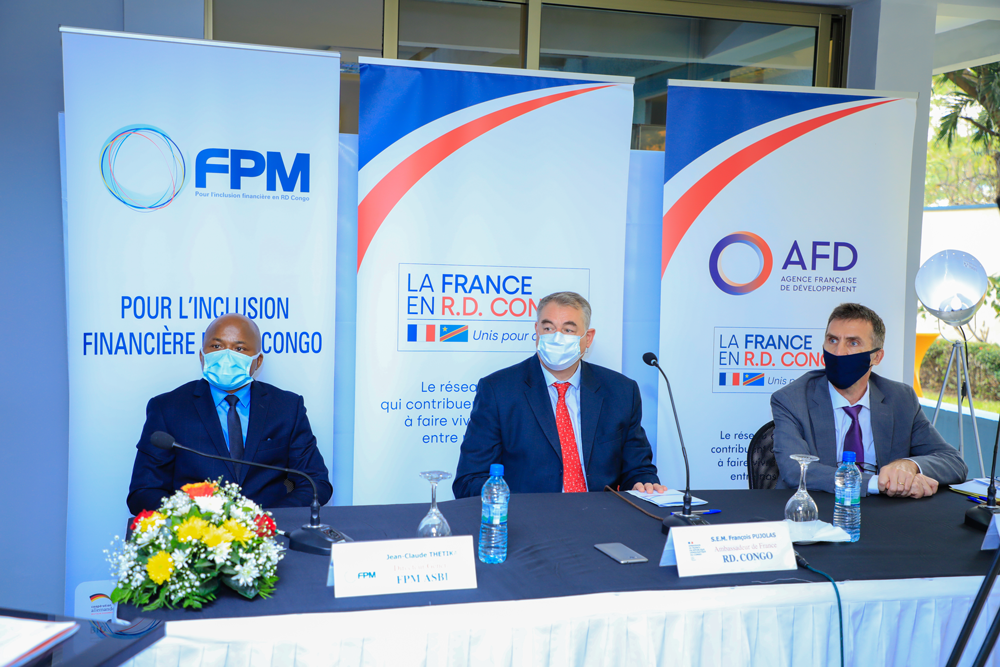 From left to right: M. Jean Claude Thetika, CEO of FPM ASBL, His Excellency Mr. François Pujolas, Ambassador of France to the DRC and Mr. Gianni Sartena, Deputy Director of the French Development Agency in the DRC
On 28 July 2020, the FPM, a fund working for financial inclusion in DR Congo, through its technical assistance vehicle, the FPM ASBL, signed a financing agreement with the French Development Agency (Agence Française de Développement) and the French Embassy in DRC to support the activities of the FPM ASBL to the tune of 5 million euros. This agreement was signed by His Excellency Mr François PUJOLAS, Ambassador of France to the DRC, Mr Gianni SARTENA, Deputy Director of the French Development Agency (AFD) in the DRC and Mr Jean Claude THETIKA, Managing Director of the FPM ASBL, in the presence of Mrs Mamie KALONDA, Managing Director of FINCA DRC and President of the National Association of Microfinance Institutions (ANIMF).
Thus, as new donors of the FPM ASBL, the French Development Agency and the Embassy of France intend to support the 2020-2023 activity program of the FPM ASBL with a particular emphasis on women and youth entrepreneurship and technological innovations for financial institutions. Three pillars common to the new business plan of the FPM ASBL and the support of French cooperation.
AFD's financing is therefore in addition to that of KFW, BIO, UNDP/UNCDF in order to strengthen the activities of the FPM ASBL aimed at building and developing an inclusive and responsible financial system by offering technical assistance services tailored to financial institutions serving micro, small and medium enterprises (MSMEs) and low-income working populations with real development potential.