AFRILAND FIRST BANK CD and FPM SA, a partnership to promote financial inclusion in the DRC
The signing of a partnership agreement formalizes the relationship between Afriland First Bank CD and the Fund for Financial Inclusion in the DRC, FPM SA in acronym; This ceremony was held on Friday, September 21, 2018, at the headquarters of Bank Afriland First Bank CD, in the presence of the executives of the two institutions.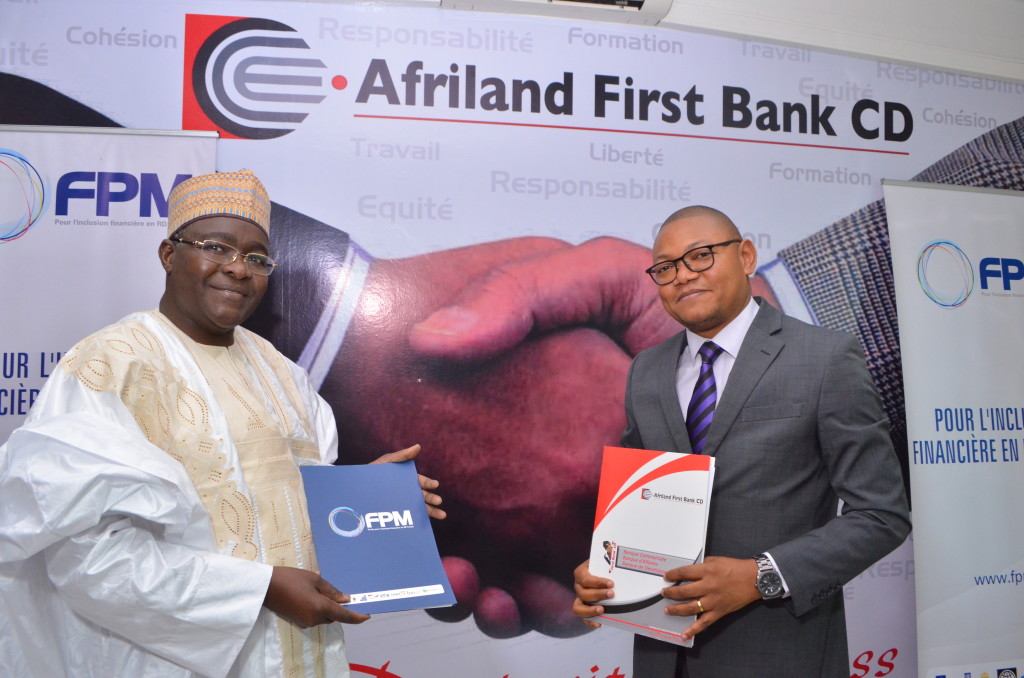 From left to right: Mr. Souaibou Abary and Carlos Kalambay Kabangu, respectively Managing Director of Afriland First Bank CD and FPM SA
Wishing to develop synergies and innovative programmes to promote the middle class and contribute to poverty reduction, this partnership aims to support the local private sector by facilitating access to finance and strengthening the financial inclusion process in the DRC.
In order to pool efforts to increase the relevance of their actions, AFRILAND FIRST BANK CD receives financing from the FPM SA in the form of loans over 3 years to refinance micro, small and medium-sized enterprises (MSMEs); An estimated amount of USD 5 million, which will benefit approximately 500 MSMEs for the first phase.
According to Mr. SOUAIBOU ABARY, Managing Director of Afriland First Bank CD, who is delighted with the successful completion of this project, "This partnership takes into account the objectives of our two institutions, namely to integrate local actors into the sustainable development and wealth creation process, while facilitating access to financial services for low-income entrepreneurs. This funding is exclusively dedicated to the MSME, which will benefit from technical support and an alignment of the offer appropriate to their specific category".
For his part, Mr. Carlos KALAMBAY KABANGU Managing Director of the FPM SA, Welcomes the signature of the 20th contract with the 10th partner of the FPM SA which will contribute to a growth of financial inclusion in the DRC "The decision to formalize this partnership with Afriland First Bank CD, is motivated by the fact that this bank actively launches itself in financing small and medium enterprises in rural areas where financial services are almost non-existent, which converges with one of the objectives of the FPM SA, that of promoting financial inclusion in the DR Congo. This partnership will support MSME, the foundation of economic development, in the context of financing medium- and long-term investments, and strengthen the basis for income-generating activities.
As a reminder, AFRILAND FIRST BANK CD is a universal bank established in the DRC since 2006, with a network of 39 branches including some advanced counters. Its commercial network covers 13 of the 26 provinces of the DRC. It offers financial services that are adapted to each segment of its clients, and pays particular attention to the development of MSMEs through the promotion of private initiative and technical and financial support.
The FPM, Fund for Financial Inclusion in the DRC, is a vehicle for refinancing (FPM SA) and technical assistance (FPM ASBL) to financial institutions, whose mission is to contribute to poverty reduction by promoting the construction and development of a responsible inclusive financial system, through a sustainable offer of financial services accessible to Micro and Small and Medium Enterprises (MSME) and the reintegration of the low-income population